Elated by her perfect execution Cindy sent us a few thoughts. Her words reflected her sense of accomplishment, "I am so happy—all the triathlon training paid off on the one day that it really counted!!"
In the breathtaking setting of Kona, Hawaii, Athletica athlete Cindy Maloney, hailing from Revelstoke, BC, Canada, embarked on a journey that would culminate in a picture-perfect execution at the Ironman World Championships. This triumphant day, marked by the inaugural Women-only World Championships, was a testament to her commitment and level-headed approach, which she had applied diligently in her training.
The Road to Kona: Consistency and Commitment
Cindy's achievement in Kona was not an overnight success but the culmination of consistent, smart training that began months before the event.  Her coach, Paul Laursen, the guiding force behind her training, emphasized the importance of unwavering consistency. "Cindy accomplished several fundamental elements in her training that undoubtedly contributed to her flawless race, all of which are supported by her data," remarked Dr. Laursen.
The Perfect Race Day: Smashing Goals and Making History 
On the race day, Cindy's meticulous planning and execution came to fruition. Intending to finish within 12 hours, she crossed the finish line in 11:09:11. The first-ever Women Only World Championships witnessed Cindy's tenacity as she secured 27th place out of 332 women in her age group. 
Mastering the Marathon: A Lesson in Precision
Cindy's marathon performance was exemplary. With a perfectly paced 5:32 min/km average, she glided through the course, overtaking competitors one by one. Her ability to maintain this consistent pace showcased her physical prowess and her mental strength. "I was determined to have my marathon under 4 hours," she said, epitomizing her unwavering determination.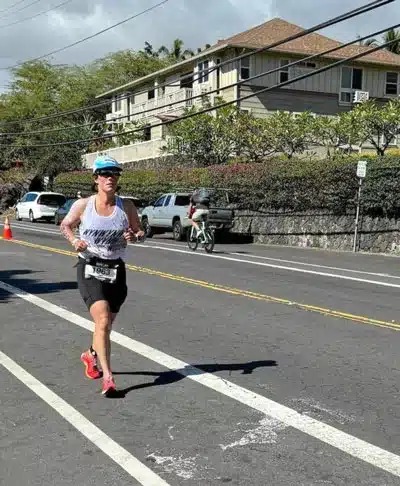 Cindy on the run leg of the Kona Ironman World Championships
The Science Behind Cindy's Performance
Cindy's journey with Athletica began early in 2021, guided by the expertise of Dr. Paul Laursen, aka "The Prof". Dr. Laursen, in his expert analysis of Cindy's performance and training, unveiled the key elements that paved the way for her race.
Cindy qualified for the World Championships in June 2023 at the Ironman Couer d'Alene. Details about her training were covered in our July blog.
Let's dig a little deeper into Cindy's race analysis with Dr. Laursen.
"The first and foremost was training consistency. If you observe her triathlon training regimen since her qualification race in June, she missed just a single day of training and diligently adhered to the adaptive plan right up to the big day."

Cindy's training diary is as picture-perfect as her race execution with consistent training and no huge training days followed by no training for days, often indicative of athletes taking on more than their bodies can handle.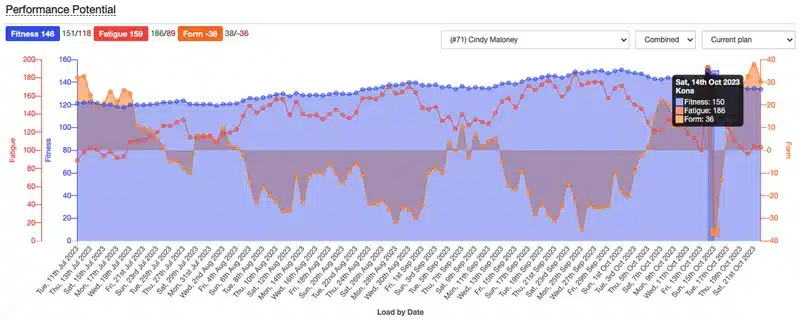 The consistent training led to a steady progression of her fitness as shown here in her Performance Potential Chart"
"Secondly, her choice of triathlon training plan, the mid-volume long-distance program, immaculately prepared her for the race's rigorous demands. How do we know this? Examine her Workout Reserve (displayed in green on the charts) and observe that it only dipped to zero, indicating no reserve left, towards the end of her bike and run phases. This indicates that there were no unexpected stressors on her body that she hadn't already encountered during her training."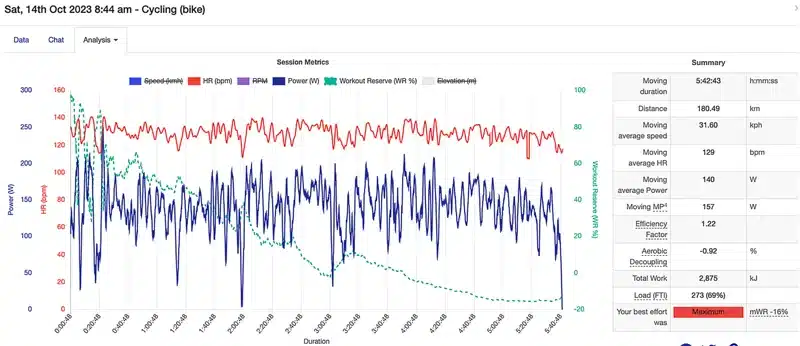 Cindy's Bike Leg at the World Champs shows stable heart rate response and power files, indicating a perfectly executed bike.

While many athletes experience a decline in pace during the marathon, Cindy managed to maintain a consistent pace throughout the race, a remarkable feat in itself.
"Thirdly, Cindy deserves full credit for her disciplined approach. Her data reveals no signs of overextending herself or biting off more than her body could chew, a common pitfall for many athletes in significant races. Cindy meticulously adhered to her pre-planned strategy and didn't waver. She stuck to the process as laid out by Athletica, and her execution was nothing short of perfection."
"I couldn't be happier for her outstanding achievement", says Dr. Laursen.
Written By Marjaana Rakai
Follow Cindy on Instagram @bikensewrevy
About the Author:
Marjaana Rakai is a passionate triathlon enthusiast, Athletica Ambassador and a dedicated follower of inspiring athletes like Cindy Maloney. As a writer, she finds joy in telling stories that inspire others to chase their dreams and push their limits in the world of endurance sports.