Last weekend's Calgary 70.3 race saw a number of Athletica athletes take top placings and 2022 70.3 World Championship Taupo qualification spots. The race was a real test at a hot 30 degrees and featured ~1200m of climbing on the bike course. For this post, we share snippets of our Athlete's post-race reports. All Canadians here, we feature Nicole Walker from Winnipeg, as well as Cindy Maloney and Brett McPhedran from Revelstoke. This was a B-race for all athletes, and gives them good insight into how they are tracking towards their A-race goals.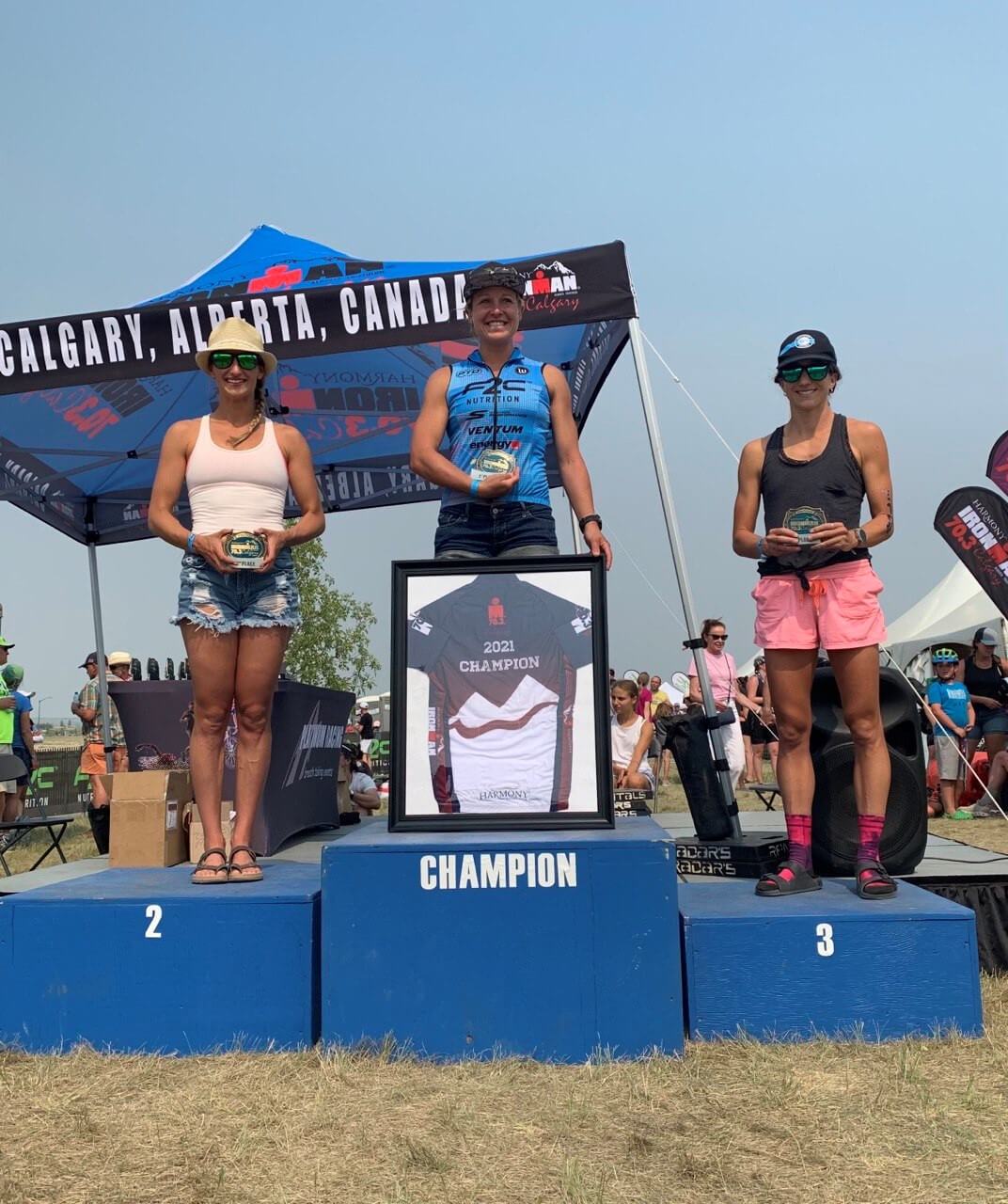 Overall, I was really pleased with how today went considering I only decided to race 8 days ago and didn't really taper. Swim – Course was short but I swam well relative to how I usually place (only 30 s back of Jen Annett — the lone pro in the field). I found feet early and just relaxed. Bike – The hilly course was something I hadn't trained for being from the prairies. I nailed my power goal – 180NP/163HR, staying between 200-210W on the hills. Mentally, I did a good job of staying cool and sticking to my power goal even if it meant letting some girls go a few times. I also made-up lots of time on them on the rolling/flatter parts and passed them in the last 30k. Importantly, I got off bike feeling fresh and ready to run! Run – I outran the entire field, including the one pro by 8 min. My patience on the bike paid off, making the first 2 of the 3 laps of the run quite enjoyable, allowing me to cruise holding 4min/k. I didn't know the girl way out in front of me was a pro, so I got a bit frustrated that she wasn't coming back to me quicker because I knew I was moving so well. At the finish, I ended up only 2 min down from her. My performance put me almost 10min ahead of the next amateur, so I was really happy to have the pull from ahead. Nutrition – I'm a low carb athlete, so about 50g/h of carb worked well. Next up – Kona. My aim is to compete for the top amateur title.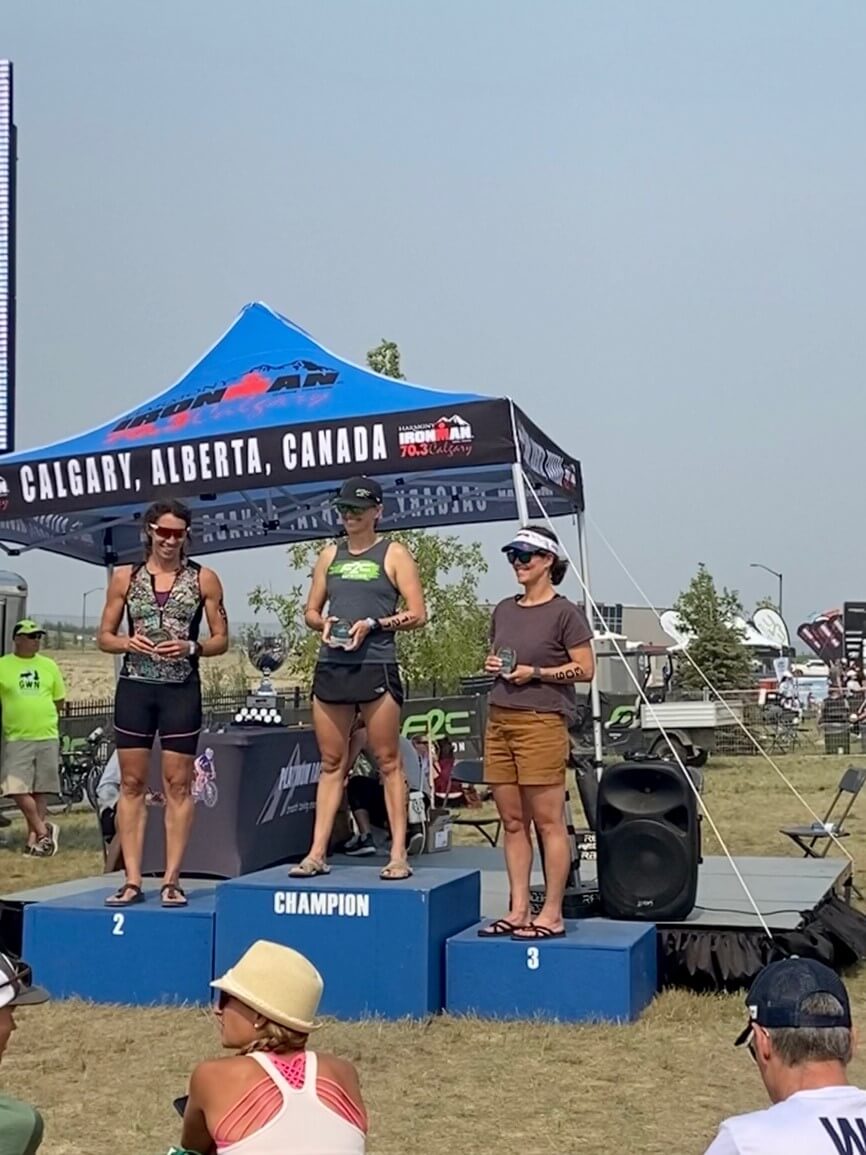 Here's the play by play: Swim – was right on target with my pace at 1:51 for the duration of the swim. Did a swim warmup before which is something that I haven't really done before in a race – which was good. Bike – only got to preview part of the course so most of it was a surprise. Super hilly – they advertised it as 1250 m gain – but Garmin said 1100…still hilly! Glad most of my training in Revy involved hills!! Felt good for the ride – I think the Athletica strength sessions really paid off, and I love descending and there was a lot of that. My avg HR was 135 and avg power 152 with Normalized power 172. My goal was to try to maintain a NP of 182 – so a bit low. Mostly went off feel. Run – Went off feel for the whole run …goal pace was 4:51 – but once I started going I realized that wasn't going to happen. It was getting hot out there and even though I felt like I was running 4:51 pace – I wasn't!! Definitely slowed down and walked through aid stations. There were a few hills and again, the hill repeats in training paid off for sure. Transitions – definitely rusty on this front, and sadly if I was as quick in transition as the person who came 2nd in my AG – I would have beat her!!! Something to work on!! Aaaannnndddd…..guess what!! I qualified for a spot at the World Championship race in Taupo Dec 2022!!! Can you believe it?! I can't. Decided to go for it …because, well – you only live once!! Super pumped. Athletica has really paid off and I am happy I got to race to see how much I have progressed!! Next stop….Ironman Canada!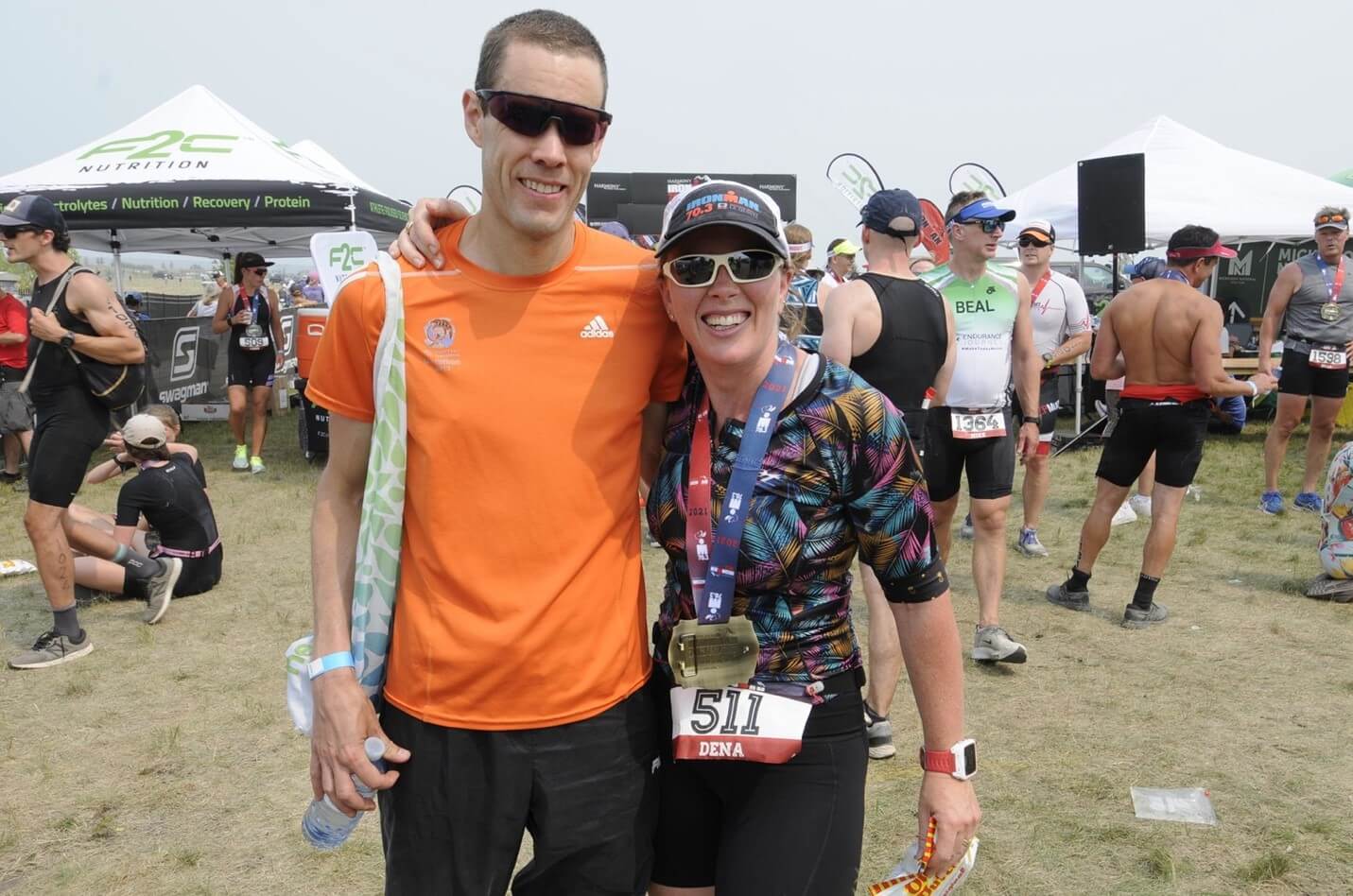 Probably not my best race. Think I was just a bit stressed and didn't prep well enough. I was trying to tie up work stuff for my 5 months leave which started Friday and seemed like everyone left all questions/requests to the last minute. Then I was packing/prepping all the night before leaving. Anyways long story short is don't start long term leave immediately before a race as things inevitably are a shit show right before taking vacation! ? I also considered Calgary a bit of a B race and I probably underestimated the amount of competition. I didn't think there was that many fast guys in Canada, let alone in my age category. There were a few pros in overall race but was very surprised to be so far down the age category (ended up 5th in AG and 24th overall). Ultimately with the stress I mentioned, I just never found that predator attitude for this race. On the bike, I felt good generally but had a chain drop earlyish which I had to stop for and had problems getting it back on for some reason. My power came out as a 233W weighted avg. Which is slightly more (~5W) than my last race in 2019 so I guess that is positive but below potential I believe as last few weeks I had been feeling pretty good doing athletica RP and strength intervals at 245-255W. Athletica suggested 240W-270W, so was thinking 240-250 was doable, but I just wasn't tracking it well enough. Swim was the one thing that did seem to go fairly well. I seeded myself at 30min and was passing people to begin with. I ended up about 1:36min/100m average, which is a bit over my Athletica pace range of 1:30-33/100m but still a decent improvement over my last 70.3 swims around 1:42min/100m. All in all, not my best race but at least I picked up my spot for 2022 70.3 world champs in NZ (which is mainly what I wanted) and reminded myself how bloody competitive these ironman races are but also that I can compete (still ended up 1st runner in my AG, even with a sub-par run). I think in terms of physical prep Athletica did a good job, and taper seemed okay. Issues with this race were generally mental, prep and execution. Lots of positives to work on for Ironman Canada next!