As athletes, we are all individuals — with unique needs. We need a customized training plan that allows us to train properly so that we gain fitness at the appropriate rate (not too hard, not too easy). When this happens, we can stay healthy and injury free. But as we all know, life gets in the way of the perfect plan. So, we needed a system that adjusts when sessions are moved, deleted, added, or done a different way. Our first iterations of Athletica achieved that objective, with great results for our members you can read about here, here and here. The other key challenge for our athletes stems from the fact that they are busy. They have important jobs, families, and loads of other responsibilities. They are time-crunched and only have so many hours a week to play with. Therefore, our challenge was to create a system that kept the features of our first version, alongside the added piece of creating time limitations for such a plan. For example, if you only have 10 hours in a week to train, plus or minus 2 hours, Athletica can now create that bespoke plan for you. Useful and exciting! Of course, there are limitations. For example, say we are striving to be a top age-grouper in a full-distance triathlon event. For such a goal, we must accumulate endurance training stress to build the appropriate metabolic and neuromuscular systems needed to perform. Simply put, this requires time. Thus, when we are time-crunched, and we place training time limitations into the Athletica plan builder that violate those basic training principles, it just can't work from a mathematical standpoint. The good news, however, is that if inappropriate time limitations are placed on the system, Athletica error messages are in place to ensure your goals are realistic.
Where are these features located?
In your 'Settings' section, go to 'Training' => 1. About You Select a low, mid or high-volume program in alignment with the guidelines provided, before specifying more precisely where you'd like these limits to fall.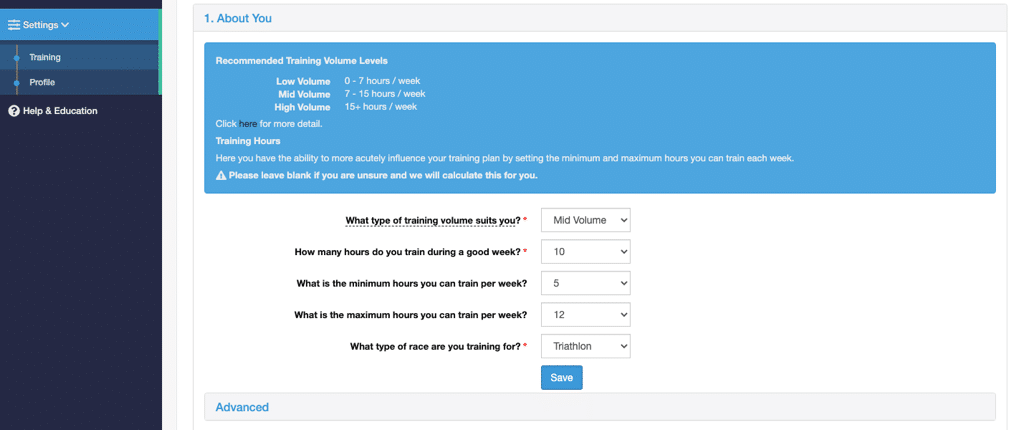 Advanced settings
In the advanced settings, you have the option to get really specific. Many of these settings are reserved for our more experienced athletes and coaches, so for the majority of athletes, you shouldn't worry too much about them. Thus, please leave blank if you are unsure as these are automatically estimated and calculated for you. These settings allow you to:
Manually adjust your fitness and fatigue values when known and migrating from an existing platform
Manage your training load ramp rate, or how fast you progressively want to gain fitness in your plan, and
Cater your training load distribution in your plan across different exercise modes
In subsequent posts, we'll expand on some background and how to use these advanced features.